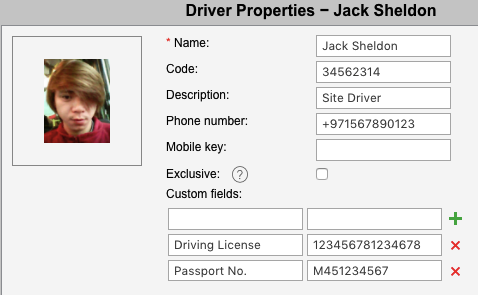 A good fleet management software will allow you to maintain a database of your drivers. You can maintain various details of your drivers like the driving license number, passport number etc as shown above.
Drivers can be assigned to vehicles manually through the software or automatically using driver identification devices. The most popular driver identification device used in vehicle telematics is the iButton. RFID readers can also be used for this purpose. If you use an automatic driver identification device, each driver will be issued a unique key or card which he can use to identify himself before driving the vehicle. Subsequently, the name of the driver will appear in the reports.
Driver based reports are also available which can show the working hours of the driver. The driver working hours can be used for accounting purposes to calculate overtime wages.
From the point of view of improving road safety, health and safety of drivers and to ensure fair competition among transport operators, certain directives are in place regarding the working hours of the drivers. Compliance with such directives can be ensured by monitoring driver working hours.
Driving behaviour is another measurable parameter in vehicle telematics. Harsh acceleration (racing), harsh braking (reckless driving), harsh cornering (changing lanes), overspeeding, idling etc can be monitored. The magnitude and duration of such excesses can be logged against each driver and this can form the basis of driver behaviour analysis.
Analyses of driving behaviour help to prolong vehicle life. It also ensures driver safety, reduce fuel costs and ensure cargo safety. This can also be used for accident analysis.
Drivers can be ranked based on this data and the best drivers can be acknowledged to improve safe driving habits among the drivers of your organization.